[review] Radiation House
By faten.banana - June 25, 2019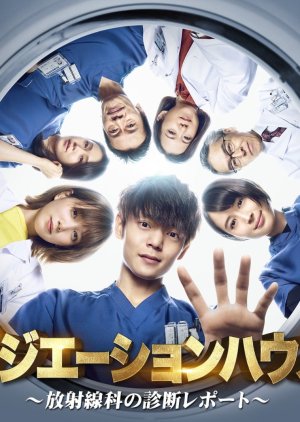 Drama:
Radiation House / Houshasenka no Shindan Report
Country:
Japan
Episodes:
11
Aired:
Apr 8, 2019 - Jun 17, 2019
Aired On:
Monday
Network:
Fuji TV
Duration:
60 min.
Genres:
Mystery, Drama, Medical
Casts:
- Kubota Masataka as Igarashi Iori
- Honda Tsubasa as Amakasu An
Synopsis:
Igarashi Iori is a talented radiographer who believes the "truth" is definitely captured in CT and MRI images. He and radiologist Amakasu An work at a hospital's radiology department where they determine the causes of patients' illnesses and injuries. (Source: jdramas.wordpress.com)
"When someone says doctors, we think of clinicians, specifically surgeons who carry out operations and save lives, right? On the other hand, radiologists, pathologists, and anesthesiologists who work with little direct contact with patients don't receive much attention from the general public, so their status and fame are incomparable to those of surgeons."
Watching this drama make me re-think how every single person in this world have their own role as important as the one you highly value and idolize as. It has been a while since I last reviewed any drama. But nevermind, let's continue.
This drama, should I say, is the drama that actually I first watched without any high-expectation. I just download the first episode because I wanted to know more about how Radiation House in a medical institution really works - even a glimpse of it would be fine. I think that is one of the best things when it comes to watching television series or even reading a novel - it opens the door to the other side of the world not covered in our sight.
Little that I know, I keep anticipating for the next episode to be updated.
Every. Single. Week.

This drama does not have that much romance into it, a mild one if I have to. Igarashi is a prominent radiographer and he has a medical license, yet he chooses to be a radiology technician instead - to support Dr Amakasu.


I adore how he strives to keep the promise he made to Dr Amakasu during their childhood period. It is the base story to everything that starts to happen. It actually the driving force, maybe with a little spark of luck, making the current Igarashi. It is stupid, but then again - good things do happen from what may seem as stupid, isn't? Saw it once lol.

I would rate the acting as mediocre. At times it does seem a little bit awkward but it worth watching. I love the plot - how at the end of each episode, the truth and lesson unravel. I love the main character - Igarashi a lot even though his actions might appear unreasonable to his colleague and the upper administration. I love his spirit and his attentive attitude, regardless though.
I learnt a lot from this 11 episodes drama. I do not realize the runtime is 60 minutes per episodes as I enjoy the experience of watching them a lot. Totally recommend 'em to those who enjoy medical drama that has a hint of romance in them! As for me, if there is a second season for this - I would totally look forward to it.
---
It has been 5 minutes since I found out that this drama is an adaptation from a manga by Taishi Mori (art) and Yokomaku Tomohiro (story) heh. Just check them out and the manga-style is totally my style. Igarashi looooooookkkkkkk so cooooooooool!