March Sale-abration!
By faten.banana - March 21, 2017
Assalammualaikum.
I have been spending quite an amount around this month none other because it is a special month for me. It's my birthday! And there is nothing more self-worthing than doing anything that could please you to the moon and back; be it by treating your housemates nasi lemak for breakfast, accompany your friend for a window shopping, or simply celebrating the days around the ones you loves.
Because,
it's special
!
Since this month is significantly special and probably the best chances for us to create more and more memories. With family and friends. Who knows we might even met our long lost significant others too. Who knows,
who knows
? Hiks.
"The best way to know your friends? Travel with them!"
When it comes to travelling – expenses would be one of the things that we worry the most.
Scratch that
. It's the
main issue
!
Well, guys. Worry no more, you can even start planning your short trip now. It's March 2017, and
Traveloka Malaysia
is
sale-abrating
! Oh wait, have you heard about
Traveloka
? (I –almost- confused it with another party lol)
*clears throat* Ehem, as the name suggest.
'
Travel-loka
'. Let me make it short, sweet and simple; is a
one-stop platform
for the millenias like us to search, book and manage our next trip either for domestic and international destination, hassle free for flight and hotel booking. No more phone calling to book your hotel (which is good if you hate talking to the phone like meh) and time saving as everything could be done as long as you have your gadget right on your hand (which is every single time.
No. You better do not lie
). Besides, the price is based on what you see is what you get. No surprise sudden hidden price you need to pay.
We hate paying more. Even for extra rice in our plate during lunch. Fuh.
Totally me.
Lol.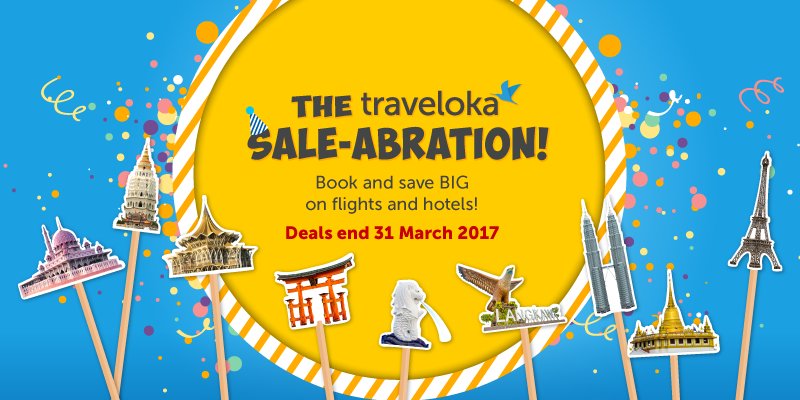 https://www.traveloka.com/en-my/promotion/sale-abration
Traveloka is currently promoting an online campaign called
The Traveloka Sale-abration
. This online travel fair promotes big and (delicious) eye-sparkling deals for flights and hotels across a variety of destinations. I present you:
#1 Flight Deals
I am going to highlight how Traveloka actually deals with
every kind of budget
, as low as
RM40
to domestic destinations and
below RM100
to international destinations. By the way, is there anyone sharing the same habit of mine – comparing price for any items I intend to purchase (
chronically
speaking lol)?
Aha!
Traveloka allows you to compare and book the best deal value for your money and flight deals across multiple airlines, again, domestic or international destination (which is
kewl
)
I am currently imagining myself in Europe guys, sooooooooon real sooooooooon.
#2 Hotel Deals
To ensure you are able to have a great stay, they has
over 100 exclusive Traveloka-only deals
for destination around Southeast Asia. In order to meet various travel purposes (relaxing your body after years pursuing degree –ehem this is hint my friend-, business travelling or mass shopping lol) partner hotels have been carefully selected to cater your need (and me!)
I found it fascinating that Traveloka actually provides more information regarding the hotel services (plus reviews!). Once you visit the website, key-in all the info regarding your stays (destination, duration of stays and number of guest/room) you will be brought into the search result page. By clicking the 'see room' link, fuh, you can see the room conditions, service provided such as WiFi or elevator, and last intriguing aspects is their nearby attractions (
spells uhm-may-zing!
).
You do not have to Google anymore only to be provided by poor quality pictures!
The Traveloka Sale-abration last from
10 up to 31 March 2017
. Seven more days for you to grab the ticket! You would not want to miss this (probably) one time chance, never know when will be the next sale-bration and man – you might regret it for years. Lol. For booking, you can either opt to website [
https://www.traveloka. com/en-my/
] or just download the app (cheaper price as far as I know) through Google Play (for Android Users) or App Store (for iOs Users) which I found quite fascinating as I hover around the website.
So, what are you waiting for?